Post Classifieds
Doing The Right Thing Matters
On November 27, 2017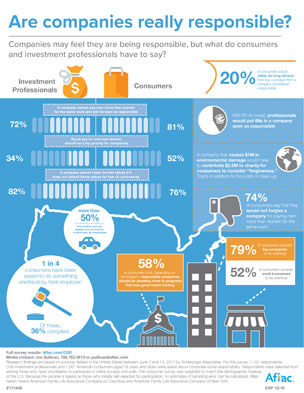 (NewsUSA)
- Equal pay for equal work tops the list of concerns expressed by respondents for Aflac's third annual Corporate Social Responsibility (CSR) survey. Consumers and investment professionals were asked what companies can and cannot do while claiming to be socially responsible.
The survey touched upon issues such as environmental pollution, recalling defective products, charitable contributions, diversity hiring and other aspects of community investment and social commitment.
See full-sized image here.
Get Top Stories Delivered Weekly
Discuss This Article
GET TOP STORIES DELIVERED WEEKLY
Our
Omaha LASIK
surgeons are proud to offer the latest technology and most experienced surgeons for the patients our omaha LASIK patients. The Omaha Eye & Laser Institute is the first center in Omaha, Nebraska to offer you the most advanced form of LASIK laser vision correction.
RECENT OUCAMPUS CLASSIFIEDS
HOUSING

JOBS

FOR SALE

TUTORS